PREVIEW: Author of The Shack Returns With New Book
Updated 9:22AM, Friday November 23rd, 2012 by Sam Hailes, Christian.co.uk
Be the first to comment!
The eagerly anticipated follow up to The Shack has just arrived. William P. Young's Cross Roads is now available to buy.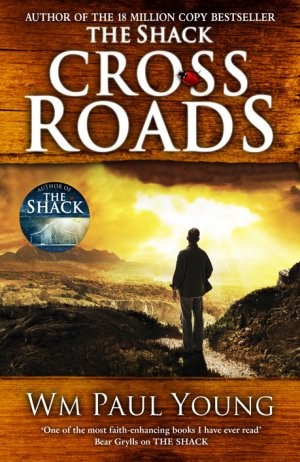 Billed as giving "another unique perspective of God and the Trinity" Cross Roads portrays God's spirit as solid as a grandmother's love. Promising to be "at least as controversial as his 18 million copy surprise bestseller," the new novel is sure to get the blogosphere talking this winter.
Here we publish the first 500 words of the new book:
Some years in Portland, Oregon, winter is a bully, spitting sleet and spewing snow in fits and starts as it violently wrestles days from spring, claiming some archaic right to remain king of the seasons—ultimately the vain attempt of another pretender. This year was not like that. Winter simply bowed out like a beaten woman, leaving head-down in tattered garments of dirty whites and browns with barely a whimper or promise of return. The difference between her presence and absence was scarcely discernible.
Anthony Spencer didn't care either way. Winter was a nuisance and spring not much better. Given the power, he would remove both from the calendar along with the wet and rainy part of autumn. A five-month year would be just about right, certainly preferable to lingering periods of uncertainty. Every cusp of spring he wondered why he stayed in the Northwest, but each year found him again asking the same question. Maybe disappointing familiarity had its own comforts. Perhaps the fear of living where no one knew him was more daunting than accustomed misery. Known routines, even though painful at times, at least had their own predictability.
Not a cheerful man, he was determined and ever in search of the next advantage. Happiness was a silly and transient sentiment, a vapor compared to the smell of a potential deal and the addicting aftertaste of the win. Friends were a bad investment. So little return. And caring was simply inconvenient.
He defined his success in real estate property management and development, diverse business ventures, and a growing investment portfolio. By most standards he was wealthy, successful, and an eligible bachelor. A bit of a womanizer, he exercised enough to stay competitive, sporting only a barely sagging belly that could be sucked in appropriately. And the women came and went, the wiser the sooner.
When he smiled, Tony could almost be mistaken for handsome. Genetics had gifted him with a six-foot-plus frame and good hair, which even now in his mid-forties showed no evidence of leaving. Obviously Anglo-Saxon, a hint of something darker and finer softened his features, especially during those moments when he was transported out of his customary business demeanor by some fancy or unhinged laughter.
He had married twice, to the same woman. The first union, while both were in their early twenties, had produced a son and a daughter, the latter now an angry young adult living across country near her mother. Their son was another story. That marriage had ended in divorce for irreconcilable differences, a poster story of calculated indifference and a callous lack of attention. In only a few short years Tony had battered Loree's sense of worth and value into barely recognizable bits and pieces.
The problem was she bowed out gracefully, and this could not be counted as a proper win. So Tony spent the next two years wooing her back, throwing a magnificent remarriage celebration and then two weeks later serving her divorce papers for a second time. Rumor was these had been prepared even before the signatures were inked on the second set of marriage certificates. But this time she came at him with all the fury of a woman scorned, and he had financially, legally, and psychologically crushed her. This certainly could be chalked up as a win. It had been a ruthless game, but only to him.

SAM HAILES
Writer, Christian.co.uk
Sam writes news, features and reviews exclusively for Christian.co.uk. The job involves meeting influential and interesting Christians from across the country and beyond. Most importantly, he never talks about himself in the third person.
This article was written and published by
Sam Hailes
for Christian.co.uk
Leave A Comment or join the discussion
What's Hot This Week?
Our What's Hot feed is updated hourly.
Find us on Facebook
Social Recommendations
SUBSCRIBE FOR UPDATES
Subscribe via e-mail to receive the latest updates on Christian.co.uk!