GodBaby and the quest for relevance
Updated 9:07AM, Friday September 7th, 2012 by The Editor, Christian.co.uk
Be the first to comment!
How do you take a timeless message and present it in an engaging style? This is the question that doesn't just plague Christians in the 21st century. It's been a concern of Christians in every century since the first one.
Is advertising the way forward?
(c)MrFixIt - Creative commons
In 2012, the Western world is almost constantly plugged into the media. Whether we're on our smart phones, working at a computer or just walking down the street, we're consuming something.
It's that final category that Church Ads have focused on over the past 20 years. A variety of creative adverts have appeared across the country on billboards during Christmas and Easter. This week, the team announced this year's Christmas effort: GodBaby.
"Like many I thought it was a joke. I thought it was a spoof, I hoped it was a spoof," Nick tells me. The 29 year old is training to become a clergy. He thinks the advert makes Christians "look like a joke".
"It doesn't paint Christianity in its most glorious form," he argues.
The advert is not primarily designed to appeal to Christians like Nick. It's aimed at those outside of the Church in the hope that many will be provoked to think about and investigate the message of Jesus.
Nick agrees the advert has and will provoke discussion. "But I'm not sure whether it would kick off that much discussion with non Christians on what Christmas is about," he adds.
Francis Goodwin, the Chairman of Church Ads disagrees. The group has certainly earned much respect from the Christian community. Not only has their mission been to bring Christianity into the spotlight during Christmas and Easter, but some of their campaigns have been phenomenally successful.
"People are still asking for re-prints of our Easter campaign from 1999. Some of the campaigns have gone all round the world with 20 or 30 countries carrying the campaign via the internet, Francis explains, arguing that GodBaby communicates both Jesus divinity and humanity.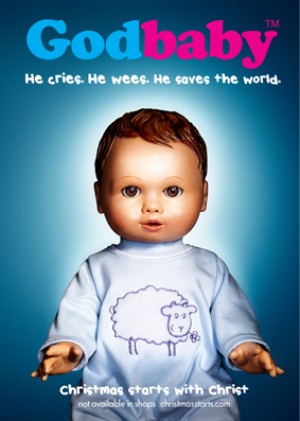 "The strapline is 'Christmas starts with Christ' which underpins our last four campaigns. It's a long running theme that's good to put out because Christmas has developed a life of it's own. Christmas doesn't necessarily have Christ in it. Most people think of it as a time for parties and food but have forgotten the Christ bit."
"The imagery tends to be non-religious and tries to anchor it back into the secular world with some relevance. I can understand why some people find it hard to embrace and a lot of people would be happy if we came up with Christmas card images and Victorian nativity scenes but to be honest I just don't think it would work."
Both Nick and Francis agree that the general public will react differently to those who are already church-goers.
Many tweeters and bloggers have been debating GodBaby already and even Francis admits some of the group's campaigns are better than others. "I'm sure not everything we do works," he says.
But whether you love or hate GodBaby, there's a question that everyone is asking: How can we best get across the Christian message in today's culture?
Over to you: How can Christians leverage the conversations that will inevitably be sparked by the "Christmas Starts with Christ" campaign? What else can be done to communicate the gospel in today's generation?

THE EDITOR
This article was written and published by
The Editor
for Christian.co.uk
Leave A Comment or join the discussion
What's Hot This Week?
Our What's Hot feed is updated hourly.
Find us on Facebook
Social Recommendations
SUBSCRIBE FOR UPDATES
Subscribe via e-mail to receive the latest updates on Christian.co.uk!