'GodBaby' He Cries. He Wees. He Saves The World
Updated 10:42AM, Tuesday September 4th, 2012 by Sam Hailes, Christian.co.uk
3 comments
A Christmas poster and radio ad campaign which portrays Jesus as a baby doll and carries the slogan, 'He cries. He wees. He saves the world' was launched yesterday.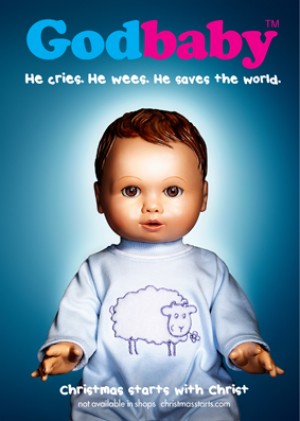 GodBaby is ChurchAds.net 2012 Christmas campaign which aims to "remind people that Christmas starts with Christ!"
The poster (see right) will be displayed across the country during the Christmas season and has been backed by a number of key figures in the Christian community.
Rt Revd Nick Baines, Bishop of Croydon said: "It's another strong and arresting image. It will surprise some and disturb others...Which is exactly what the real Jesus did. And it forces us beyond the tinsel to the human reality of 'God among us".
But not everyone has been so positive. One tweeter called the toy "hideously white" with others simply saying "oh no" or "is this a joke?"
Rachel Farmer from ChurchAds compared the campaign to marmite, "you either love it or you hate it".
The poster and radio advert can be downloaded for free from ChurchAds.net and developers are hoping that Christians of all denominations will get behind the campaign.
The 'Christmas Starts with Christ' campaign has been running for 4 years. According to research from the developers, 42% of people seeing ChurchAds material made them think more about the true meaning of Christmas.
The group say they have secured the services of top designers who have worked on the campaign for free. Thanks to funding from The Jerusalem Trust and donations from the public and churches, the group are hopeful that based on previous years success, around 1000 poster sites and 30 radio stations will be covered this year.

SAM HAILES
Writer, Christian.co.uk
Sam writes news, features and reviews exclusively for Christian.co.uk. The job involves meeting influential and interesting Christians from across the country and beyond. Most importantly, he never talks about himself in the third person.
This article was written and published by
Sam Hailes
for Christian.co.uk
Leave A Comment or join the discussion
J
said...
Haha, I'm not totally convinced, seems just a little weird! And it saddens me slightly that top designers were expected to work for free on this. They obviously have a big budget for advertising slots and printing, but couldn't even afford to pay people for doing their job.
royalpriestess
said...
I think the poster's irreverent... The aim of reminding people what Christmas is all about is great of course, but it's good to remember that Jesus is our God - the Creator, the King of Kings and Lord of Lords... What respect does speaking of Him 'weeing' show? The Word says He has made us His friends, but lets not get too pally or familiar.
Dave Godfrey
said...
But it was holy wee. Surely you've got to have respect for the awesome power of holy wee.
What's Hot This Week?
Our What's Hot feed is updated hourly.
Find us on Facebook
Social Recommendations
SUBSCRIBE FOR UPDATES
Subscribe via e-mail to receive the latest updates on Christian.co.uk!