Operation Christmas Child Launch Shoebox Campaign
Updated 15:50PM, Thursday September 27th, 2012 by Sam Hailes, Christian.co.uk
1 comment
Christian charity Samaritan's Purse yesterday launched their Operation Christmas Child campaign in the UK.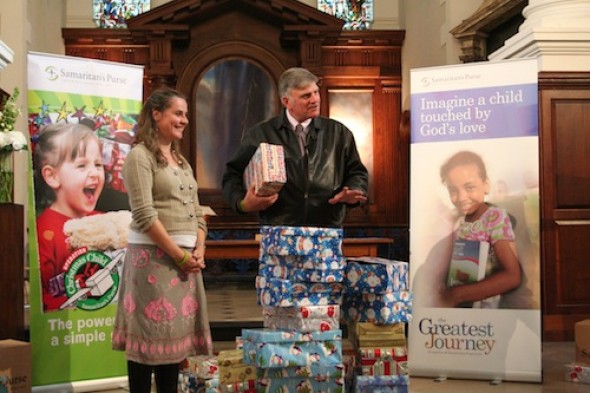 The initative will see the charity deliver 8 million shoeboxes - full of toys, educational supplies, sweets and other items to children in need worldwide.
President of the charity Franklin Graham was in London yesterday to help school children wrap and pack shoeboxes. The boxes will be added to donations from other Western nations and be distributed to children in over 105 nations this Christmas.
Operation Christmas Child has delivered 94 million shoeboxes over the past 22 years. To lift this total to 100 million and beyond, Mr Graham is encouraging all churches, schools, workplaces, families and individuals around the world to help Samaritan's Purse achieve this remarkable milestone.
"I want to thank everyone in the UK for supporting Operation Christmas Child. This year we will reach an historic number that is our 100 millionth shoebox and so we appreciate the prayers you send with these gifts that will be sent in Jesus' name," said Mr Graham speaking from Christ Church, Spitalfields.
The children presented Mr Graham with a gift-filled shoebox wrapped in Union Jack wrapping paper and asked him to give it to a child who most needed it this Christmas.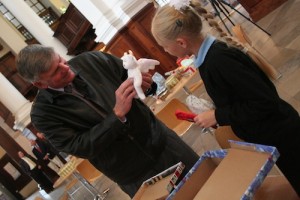 Mr Graham responded: "Thank you so much. I will definitely personally deliver this and make sure they write you a note to say thank you. I know they will be so blessed by not only this box but the prayer you've sent with this. We have thousands of others around the world who'll be personally delivering more than 8 million shoeboxes this year."
This Saturday, during the National Day of Prayer and Worship at Wembley Stadium, Samaritan's Purse UK Executive Director Simon Barrington, will lead a time of prayer for the children in over 105 countries who will be receiving OCC shoeboxes this year.
"We're also coming together to praise God and celebrate all that's been done through the 94 million acts of compassion that have been carried out through Operation Christmas Child over the last 22 years. Each one of these shoeboxes is an opportunity to share God's love and for Churches overseas to point children to Jesus Christ as their saviour at Christmas."
"Our hope is that those gathered at Wembley will be challenged and inspired to continue to be praying for and acting on behalf of those who are orphaned, living in poverty and disease and victims of trafficking."
Those wanting to join the campaign have until November 18th to submit their shoebox. Full details here.

SAM HAILES
Writer, Christian.co.uk
Sam writes news, features and reviews exclusively for Christian.co.uk. The job involves meeting influential and interesting Christians from across the country and beyond. Most importantly, he never talks about himself in the third person.
This article was written and published by
Sam Hailes
for Christian.co.uk
Leave A Comment or join the discussion
Steve Rainbow
said...
i worked with a Romanian man who had received Aid during the aftermath of that country's revolution. " It made me feel other people cared" were his words when I spoke of the Shoebox appeal, we discussed the hunger and poverty that fell upon an entire country and knowing that the Shoebox ethic truly worked made me determined that my daughters continued at school to press for this to be the Christmas Charity of choice.
What's Hot This Week?
Our What's Hot feed is updated hourly.
Find us on Facebook
Social Recommendations
SUBSCRIBE FOR UPDATES
Subscribe via e-mail to receive the latest updates on Christian.co.uk!