Singing Along with Phil Wickham
Updated 10:22AM, Monday July 30th, 2012 by Sam Hailes, Christian.co.uk
Be the first to comment!
American worship leader Phil Wickham burst onto the UK scene shortly after the release of his free album Singalong. The idea was simple, one man, one guitar and 2000 people singing along.
Phil Wickham
playing at the Big Church Day Out (c) Josh Hailes
Thanks to well known Christians such as Mike Pilivachi, Vicky Beeching and Tim Hughes spreading the word about the free download, Phil's songs Beautiful, Canons and Because of Your Love soon became favourites at UK festivals and churches.
It was a series of events that took the San Deigo based worship leader by surprise.
"I was asked to go to England and they said, 'Have you heard the new Soul Survivor CD?' and I said, 'No'. They had three of my songs on that and I had no idea anyone here knew my songs! I grew up listening to Soul Survivor and singing Tim Hughes and Matt Redman songs in youth group. So that's been an honour."
Early years
Phil began leading worship at the tender age of 12. "It is young, isn't it?" Phil says, as if he's just been told the news for the first time.
"I had a relationship with God but I was still so young. I had my parents as an example. Close your eyes, get up to the microphone and sing the songs. I was just doing what I'd seen. I started playing guitar about three months before I led worship so I was very poor at it and only knew a few songs."
"I was so scared and nervous. I knew my four or five worship tunes so I started doing it and did a really poor job I think, practically speaking. On a spiritual level it was so cool because it was the first time I'd really invested myself and my time into something of my own. Seeing the direct result of God being glorified through it was a new thing for me, and an amazing thing. I thought, 'I could do this for a while, I might be able to get into this'. That was 16 years ago. I'm still doing it now."
Despite writing it at the tender age of 15, one of Phil's first songs Jesus Lord of Heaven has been translated into at least five languages and sung all over the world. "I've heard a Hungarian version too, which was crazy. It's so above and beyond anything I could have ever asked or thought about. I'm very humbled."
Worship: A family affair
Phil speaks very highly of his parents and of his spiritual upbringing. "My Dad is a guitar player and my Mum is a singer, so we had music around the house all through growing up. Ever since I've been born they've been worship leaders, so we had Jesus and music coming together in our house in a really cool way. My parents mirrored what it means to love God and use music to encourage other people to do the same thing."
Now Phil and his wife Mallory are building their own family. Penelope Maye Wickham was born late last year and is a "handful already". Phil says that having a daughter has changed his life even more than marriage did three years ago.
"Me and my wife are best friends and love being together and she would come out with me all the time. Last time I was in England for Soul Survivor, my wife came out with me for that whole week and had an amazing time worshipping and being a part of what was happening."
Being in the calling and blessing of God is where we all need to be
"Now it's different because we have this baby and she's not here with me. Learning how to balance that has been a rewarding and challenging thing. That's the life of a travelling person, I guess. I feel called and my wife does too to this ministry. So once you have that foundation of feeling so sure of that calling it's not 'should I be doing this anymore?' but 'how do we be wise with this calling of being a husband and a father first, and then to a bigger picture of the church to lead in worship in different places?' God in that calling gives grace."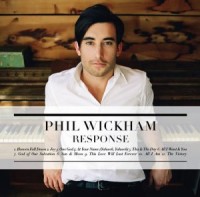 The 28 year old appears to be full of wise words. He talks about taking "every opportunity" but not wanting to pursue the secular music world right now. "I don't think there's anything more satisfying for me as a songwriter than writing a song that I hear people singing to the Lord." He talks about "following the blessing of God" and being a "reluctant worship leader". Signing to a record label was a difficult experience because Phil said he "wanted to", but didn't want to let that "want" get in the way of what God could be doing.
"Being in the calling and blessing of God is where we all need to be," he says, simply, revealing that the season proceeding his last studio album Response was "very sweet." "There's a song called Joy," he says, "which is exactly what I'm talking about. I felt so satisfied in God and I still do. If you listen to my last record there's a lot of hope, joy and excitement."
Singalong
Back to his acoustic Singalong project, Phil reveals there was never a grand master plan to do an acoustic record.
"I'd always envisioned myself going out with my band and get these high moments and those dynamics."
I don't think there's anything more satisfying for me as a songwriter than writing a song that I hear people singing to the Lord
But this changed after an opportunity to tour with David Crowder Band led to Phil playing his acoustic guitar with no band.
"I had to figure out how I'd do the acoustic thing. Over the tour I found it was something that I loved to do. There's something simple about when you have a song you believe in, and you deliver it with passion; there's nothing to hide behind. It can go good or bad and it seemed to go good on that tour. I would teach the song Canons and everyone would sing."
"That tour wasn't just in churches it was in clubs and it was so cool to be in these neutral venues and hear people singing out to God."
After the tour, Phil received a number of requests to play acoustically at events across the country. "I love it as much as the band thing now. There's not much to lean on, it's just honest and real. I almost feel sometimes it's easier to connect on an emotional level because you don't have to get through the production. I started doing that a lot and I thought, 'Some people are liking this; I should maybe record it.' But I didn't want people to buy it because I didn't know if it was good enough for people to buy."
"It wasn't some big vision. God didn't tell me to give it away free. I started talking about it with the guy who was helping me record it and he said, 'Why don't you give it away free?' When he said that I knew immediately that was what's supposed to happen. It felt so right. A night of people worshipping and people can have it for free and be a part of it.
"I'm expecting maybe a couple of thousand people to download it and enjoy it. It ended up being quite a bit more than that; I guess people like free things!"
Phil says the raw feel found on both Singalong albums (the second was released in May) is in part thanks to the records being released without any post-production interference. "We didn't re-record anything. Whatever happens that night happens."
It's this desire to create something real and true to life that has influenced Phil's exceptional musical career. Whether it's his self titled debut, latest album or live records, there's something very special to be found in his music. Let's hope it's not too long before he's back in the UK doing what he does best.

SAM HAILES
Writer, Christian.co.uk
Sam writes news, features and reviews exclusively for Christian.co.uk. The job involves meeting influential and interesting Christians from across the country and beyond. Most importantly, he never talks about himself in the third person.
This article was written and published by
Sam Hailes
for Christian.co.uk
Leave A Comment or join the discussion
What's Hot This Week?
Our What's Hot feed is updated hourly.
Find us on Facebook
Social Recommendations
SUBSCRIBE FOR UPDATES
Subscribe via e-mail to receive the latest updates on Christian.co.uk!