The Best of Lou Fellingham Live
Updated 9:28AM, Thursday August 2nd, 2012 by Sam Hailes, Christian.co.uk
Be the first to comment!
There are 30 excellent reasons to check out Lou Fellingham's greatest hits project.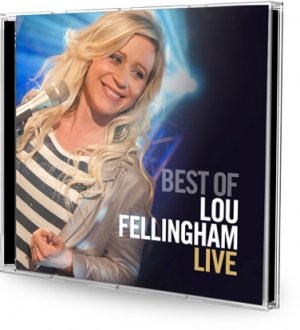 Space doesn't allow for an in-depth analysis of all 30 songs, but just a quick glance at the track list explains why it's such a great album.
'Sing To The Lord', 'Holy Holy', 'In Christ Alone', 'On A Mission', 'Salvation's Song', 'There Is A Day', the list goes on.
The entirely live album captures the authentic atmosphere of worship at large-scale events across the UK.
With most of the music coming from her band Phatfish, Lou's album consistently delivers great arrangements of top worship songs.
But the best thing about The Best of Lou Fellingham Live is the surprises along the way.
The writer has released more top songs than you might initially realise. Even the most die-hard Lou Fellingham fan will be pleasantly surprised to hear some old tunes they'd forgotten were hers. And because this new album is a collection of live music, even if you already own Lou Fellingham's studio albums, this release is still well worth owning.
Whether it's the Stoneleigh era 'Salvation Song' - sung with Stuart Townend, or the more contemporary 'Breathe', Lou's performances are superb throughout.
With well over two hours worth of music packed onto the CDs, you may think everything could start to sound the same after the first disc. But this isn't the case. Thanks to a combination of clever production and interesting musicianship, the two discs hold your attention well.
As well as Lou's own songs there are a number of covers including Matt Redman's 'The Father's Song' and Stuart Townend's 'In Christ Alone'. As Lou has worked extensively with both of these artists, it's unsurprising to hear her doing justice to these songs and putting her own mark on them.
As well as writing and recording top worship songs that are sung around the world, Lou and her band have managed to continually re-invent themselves. Despite line-up changes to Phatfish, and adapting to play in everything from clubs to churches, they've continually delivered what the Church has needed – inspirational worship music. It's great to hear both classic original arrangements and new fresh versions of their songs on this recording.
Whether you're on your way to work, having a quiet evening in or are looking for a CD to play while people come into church on a Sunday, you can't go wrong with this. Lou surely has many more songs to write. A 'best of' CD seems a long way premature. Lou's integrity and desire to lead others in worship shines through on this recording. It's that reason - above all others, that makes this recording almost impossible to criticise. Well done Lou!
Rating: 9 out of 10

SAM HAILES
Writer, Christian.co.uk
Sam writes news, features and reviews exclusively for Christian.co.uk. The job involves meeting influential and interesting Christians from across the country and beyond. Most importantly, he never talks about himself in the third person.
This article was written and published by
Sam Hailes
for Christian.co.uk
Leave A Comment or join the discussion
What's Hot This Week?
Our What's Hot feed is updated hourly.
Find us on Facebook
Social Recommendations
SUBSCRIBE FOR UPDATES
Subscribe via e-mail to receive the latest updates on Christian.co.uk!