Political Hot Potatoes + Christian Action =
Updated 10:02AM, Friday November 23rd, 2012 by Sam Hailes, Christian.co.uk
Be the first to comment!
What happens when you combine some of the UK's toughest and most controversial political issues with courageous Christian campaigning?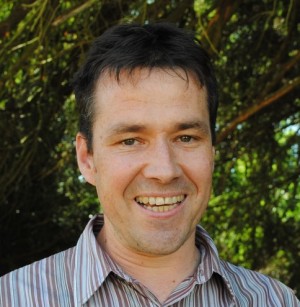 The answer is a conversation with Christian Action Research and Education's (CARE) Gareth Davies.
Placing itself at the tricky intersection between faith and politics, CARE has its roots in the early 1970s. Working for the organisation, Gareth spends his time travelling the UK and passionately campaigning on a variety of issues.
Taking Our Place In Democracy
From human trafficking to assisted suicide and marriage, Gareth believes Christians should take their place in democracy and not shy away from making their voice heard. My suggestion (playing devil's advocate) that Christians should sit back and abandon a society which doesn't seem to be interested in God makes the campaigner sit up and passionately communicate his position with great clarity.
"We live in a liberal democracy where Bible-believing Christians are a minority, therefore we take our place in the democracy and we put our arguments forward. We campaign and try to persuade and work with people on issues for the benefit of the whole society.
"But we're realistic. We can't win on every single issue, but that's not going to stop us promoting and protecting the dignity of every member of mankind whether they are the youngest or the oldest, the richest or the poorest, or most able or most incapacitated. All have that equality before God. We take our place in the democratic process and use all the democratic leavers to try and make a difference."
We can't win on every single issue, but that's not going to stop us promoting and protecting the dignity of every member of mankind
Gareth believes the Church is "waking up" to social challenges in the UK. He's optimistic about the future but warns of "dangers" such as becoming a single issue campaigner.
"We can see that in the case of America on the issue of abortion for instance. It can be one issue that defines a whole campaign and we need to recognise there's a whole suite of issues."
Outlawing Payment For Sex
Through his role at CARE, Gareth has read-up and campaigned on a whole host of issues. Human trafficking is one of the most talked about political issues in Christian communities today, and Gareth is hopeful that a broad piece of legislature will combat the problem.
"There's an initiative currently in the Northern Ireland Assembly to make that part of the UK compliant with the EU directive on trafficking. But what has really captured the headlines is the proposal to outlaw payment for sex - which follows the Swedish approach."
Gareth admits such a proposal is controversial but believes the evidence shows that banning prostitution would also result in a dramatic fall in trafficking.
"Even the mayor of Amsterdam has closed down a third of the red light district because he's recognised that legalisation, far from making everything safe and happy has led to an increase in trafficking and under the radar sex work in that city. So we think the tide is turning on that."
Gareth reveals a completely independent initiative to achieve the same aim is also underway in Scotland.
"Around 95% of people involved in sex work are unhappy with it. Most live thoroughly miserable existences and the long-term abuse of that is very difficult to recover from. That's why we're passionate about putting something on the statutes that will really help people."
Promoting Positive Messages
As the issue of Assisted Suicide emerges again, (it's due to be debated in parliament in the new year) CARE have attempted to launch a positive campaign for more investment in the hospice movement.
"That's our positive message but the press will pick up on the negative message of 'we don't want to see a change in the law on assisted suicide', which we're quite happy to say we stand for, but it's not such a big story to say these organisations are campaigning for palliative care."
Gareth admits that the media choosing to take a negative angle "comes with the terroritory" of public campaigns but is still keen for the Church to be a positive voice.
One of this year's political hot topics has been the government's pledge to redefine marriage, allowing gay couples to wed. Gareth believes the majority of the 100,000 responses from the public on the issue were against making a change in the law.
"We believe individual people can still write to their MPs because ultimately this will come back to the house for a vote. So please contact your MP and make your voice heard."
Recognising Marriage
But aside from this highly emotive and tricky subject, Gareth is keen to point out a currently unfulfilled promise from the Coalition regarding marriage.
"One of the issues that we've been campaigning on for a long time is the recognition of marriage in the tax system. It was in the Conservative party manifesto and the Coalition agreement that this government would legislate for the recognition of marriage in the tax system.
"Now is a key moment because we're halfway through the parliament and if something is going to happen it needs to happen soon. We're encouraging people to write to the Prime Minister and Chancellor and remind them of that pledge and see if we can make some move toward a tax break and transferring tax allowance to married couples. That supports marriage and promotes it into the future."
No More Page 3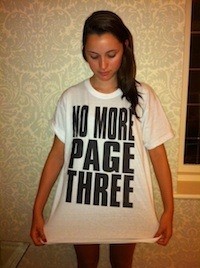 Gareth says CARE have never been busier, and looking ahead there are no signs of their work slowing down. As a supporter of the No More Page 3 campaign, Gareth believes issues around sexualisation are only going to become more prominent. He's hopeful that the Online Safety Bill – which will allow broadband customers to opt out of adult content – will come into force. As for The Sun, the jury is out.
"For a lot of people, seeing this [page 3] lying around the family dinner table is unacceptable. It wouldn't be acceptable for a school to show that picture, why is it acceptable to have that newspaper scattered around supposedly seen by around 7 million a day?
"What is it saying about the female figure that this is the most important thing a woman can do - take their top off? That's a huge problem for us. It's not trying to ban anything but an appeal to the editor to say 'come on this is a groundswell of opinion which says it isn't acceptable today to objectify women. Your newspaper is better than that, you can put something far more productive on page 3. You wouldn't lose readers. People would still engage with the newspaper and everyone would win".
For those looking to delve deeper into current political issues, CARE recommends John Stott's classic Issues Facing Christians Today. Gareth calls it a "manifesto for Christian engagement". But as for a book that actively encourages UK based Christian campaigning in today's society, Gareth hesitates, before finally admitting:
"That's the book I'd like to write".

SAM HAILES
Writer, Christian.co.uk
Sam writes news, features and reviews exclusively for Christian.co.uk. The job involves meeting influential and interesting Christians from across the country and beyond. Most importantly, he never talks about himself in the third person.
This article was written and published by
Sam Hailes
for Christian.co.uk
Leave A Comment or join the discussion
What's Hot This Week?
Our What's Hot feed is updated hourly.
Find us on Facebook
Social Recommendations
SUBSCRIBE FOR UPDATES
Subscribe via e-mail to receive the latest updates on Christian.co.uk!