Premiership Keeper's Tourettes Syndrome Cross
Updated 9:44AM, Monday October 29th, 2012 by Hefin Rhys Jones, Christian.co.uk
Be the first to comment!
US born Everton FC goalkeeper, Tim Howard, has more 'crosses' to cope with those of the opposing team. Yet somehow he finds peace – a peace he first saw in his grandmother. Where does that come from, and what does it mean to him?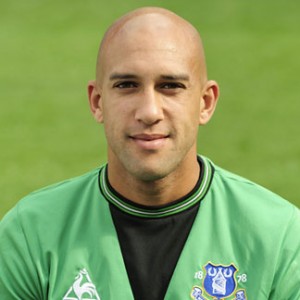 As one of the Premiership's top keepers, Everton's Tim Howard is a quality operator. Known for his tremendous shot killing skills and ability to deal with the toughest crosses, he's made over 250 Premiership appearances since moving to the EPL with Manchester United in 2003.
"Jesus is Everything"
But despite his footballing achievements and all that the game means to the 33 year-old, it isn't the most important thing in his life.
As a committed Christian, he says being a child of God is the most important thing.
"Knowing Jesus is everything...I have a personal relationship with Him and, like any relationship, you have to work on it every day. I came to a point in my life where I could no longer sit on the fence, talk about knowing God or pretend I knew God. I wanted to live for him. I asked him into my heart."
Dealing with Tourettes
But the married father of two has another kind of 'cross' to deal with. Tim Howard has Tourettes syndrome, which can lead to uncontrolled verbal outbursts and physical spasms.
The condition remained undiagnosed for the first 10 years of Howard's life, which made for a difficult time. It was his grandmother's faith that provided the youngster with a sense of peace, eventually leading him to Christ.
"I did not experience peace," he said, in a testimony published by the sports ministry, 'Athletes in Action'. "But even though my life often seemed chaotic, I knew I could count on at least one person to provide calm and stability: my grandmother. Nana's sense of peace was so powerful because it came from her faith in the Lord. Through her, God revealed his love for me as well. It wasn't long before I was following in her footsteps. I wanted the same kind of faith and peace she had, and that is exactly what God gave me."
Total peace
Tim Howard acknowledges that living with Tourettes is not easy but believes that coupled with his sporting ability, God has brought good out of his illness. "God has blessed me with the gift of Athleticism as well," he said.
"He has also done some powerful things in my life through the combination of these two gifts. He has shown me ways to use my position as a professional athlete to encourage others with Tourettes syndrome."
And it's his faith which gives him a different perspective on his career to most footballers. "Today, I am blessed to be living a dream. And yet, if it all went away tomorrow, I know I would still have peace. That probably sounds crazy to most people, but that's the kind of peace Christ gives. It is rooted in his love, and it surpasses all understanding." Without doubt, Tim Howard is shining Christ's light on the world's biggest sporting stage.
Vital statistics:
2003 Community Shield winner (MU)
2003-04 League Cup winner (MU)
2005-06 League Cup winner (MU)
Professional Footballers Association team of the year (MU)
2009 FA Cup Final (Everton)
Hold's Everton's record for highest number of clean sheets in a season
82 caps for US
Want to find peace through spiritual growth?

HEFIN RHYS JONES
Leave A Comment or join the discussion
What's Hot This Week?
Our What's Hot feed is updated hourly.
Find us on Facebook
Social Recommendations
SUBSCRIBE FOR UPDATES
Subscribe via e-mail to receive the latest updates on Christian.co.uk!