Joy - Steven Curtis Chapman
Updated 10:00AM, Monday November 26th, 2012 by Sam Hailes, Christian.co.uk
Be the first to comment!
One of the most loved and respected artists in all of Christian music has just released his third Christmas album.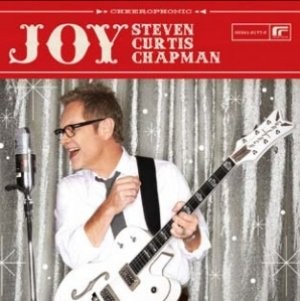 Simply titled Joy, Steven Curtis Chapman says he's entering a "new season…a season of joy".
His words follow the 2008 tragedy when his youngest adoptive daughter was accidentally run over by Chapman's son.
Maria Chapman's death resulted in Steven's most subdued and lament-filled album, Beauty Will Rise. Praised for its honesty, the album received top reviews and chart placings.
"Even as hard as things have been, it's like the sweet is starting to outweigh the bitter for us more and more," Steven says.
"Christmas is becoming a less hard thing for us… we can remember now without it just being so painful…"
Joy is the perfect title for the release. The recording features 5 originals and 8 covers – which range from Joy To The World to Let It Snow, Let It Snow, Let It Snow.
The jazz feel to the latter song is as delightful as the fire described in the song. The singer has already demonstrated his ability to record top blues and jazz influenced tunes on his Abbey Road album The Walk.
As Steven's album sales surpass 10 million, his inimitable voice continues to shine. It's one of the best aspects of the new album.
Joy blends fresh (We Three Kings) and traditional (In The Bleak Midwinter) arrangements beautifully. It's a recording with something for everyone.
The acoustic guitar sounds are crisp and clear throughout. All of the musicians play their parts magnificently which results in an album packed full of Christmas cheer and goodwill.
Perfect as background music during the jolliest time of the year, it's difficult to think of someone who wouldn't enjoy this album. It may not push the boundaries, but if you wanted some Christmas comedy there's always Relient K's Let Is Snow Let It Reindeer. Those craving some hard rock Christmas tunes best (and possibly only) option is August Red's Sleddin' Hill.
Christmas albums can only be enjoyed for a few months of the year. But Joy is so well produced and written that it's bound to be a favourite not just this Christmas, but for many Christmases to come.
This album appeals to the masses. And considering your Christmas will likely be filled with some diverse characters, an album like this is exactly what you need to bring some peace to the festivities.
Rating: 9 out of 10

SAM HAILES
Writer, Christian.co.uk
Sam writes news, features and reviews exclusively for Christian.co.uk. The job involves meeting influential and interesting Christians from across the country and beyond. Most importantly, he never talks about himself in the third person.
This article was written and published by
Sam Hailes
for Christian.co.uk
Leave A Comment or join the discussion
What's Hot This Week?
Our What's Hot feed is updated hourly.
Find us on Facebook
Social Recommendations
SUBSCRIBE FOR UPDATES
Subscribe via e-mail to receive the latest updates on Christian.co.uk!