Life is a journey
Updated 11:30AM, Wednesday September 19th, 2012 by Phil Hemsley, Christian.co.uk
Be the first to comment!
"When Jesus spoke again to the people he said, 'I am the light of the world. Whoever follows me will never walk in darkness, but will have the light of life'" (John 8: 12)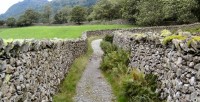 I used to have one of these motivational mouse mats which said "Life is a journey, not a destination". But I realise that life is a journey for which we need a destination.
For some people, it's to become chairman of the board, or prime minister. The Israelites had the promised land. As Christians we have heaven.....
To go shopping we have to get to the shops. Maybe we have to take a long and tiring walk. But we can get pleasure from the walk too – if we choose to.
How much harder it is to cycle on an exercise bike than to cycle in the countryside. We get our exercise without noticing by taking pleasure in the countryside.
We can live our lives in the sole purpose of getting to heaven, and have a long and tiring life, or we can choose to enjoy that life.
Bodily death is a destination for everyone. We may fear it, long for it, long for what's on the other side, but we will get there when we get there – so let's make the most of the journey. Let's walk instead of taking the car. Let's walk joyfully in the presence of God, and enjoy every step, both for itself and in the knowledge of where it is taking us. Let's enjoy the sun, and the rain, the wide open plains and the steep slippery slopes – safe in the knowledge that we are with the best travelling companion there could ever be.
We could try to plan our route ourselves, but we don't know the land so who knows where we might end up. We can trust our guide who knows it like the back of his hand……it is the back of his hand. We can trust him to lead us the best way, even if it is steep and slippery in places. In that knowledge let's enjoy the walk and enjoy the scenery.
MINIMALIST CHRISTIAN
This article was written and published by
Phil Hemsley
for Christian.co.uk
Leave A Comment or join the discussion
What's Hot This Week?
Our What's Hot feed is updated hourly.
Find us on Facebook
Social Recommendations
SUBSCRIBE FOR UPDATES
Subscribe via e-mail to receive the latest updates on Christian.co.uk!