Newday Live 2012 - Reliving The Summer
Updated 17:00PM, Tuesday October 30th, 2012 by Sam Hailes, Christian.co.uk
Be the first to comment!
This summer saw the 9th annual Newday event for teenagers and young people. Organised by Newfrontiers, the Norfolk event drew a record 7,000 people for a week of worship and teaching.
Last week Newday Live 2012* was released. The album marks a change in direction with the event choosing to self-produce the record and develop a Newday band. We caught up with keyboard player and producer Sam Cox to find out more.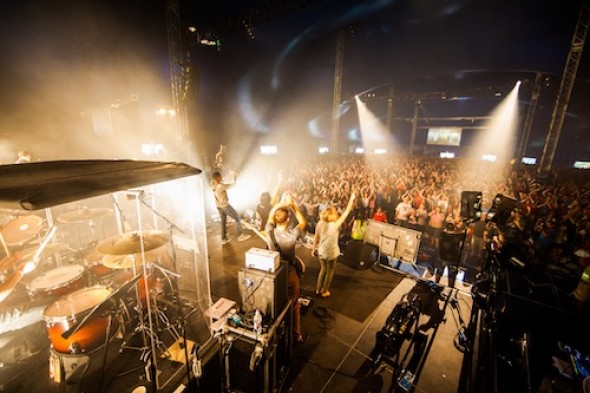 How long have you been involved with Newday and in what capacity?
I started playing keyboards at Newday in 2008, so this is my fourth year at the festival. The last couple of years I've been much more involved with the musical direction and have written and led a few songs too.
Previously, worship leaders like Matt Redman have dropped in and led. Is the vision now to raise up people from within Newfrontiers to lead?
I suppose so yes. Creating a context for new and gifted people to grow obviously paves a better future than continuing to invest in someone like Matt who has become such an experienced pillar, a statesman really.
Part of it is that Joel [Virgo], who leads the event, is huge on relationship and obviously needs people he can trust. In that sense it's only natural that myself, Simon [Brading] and Jules [Burt] would factor into things as we work with him on a weekly basis.
Now that Newfrontiers is de-centralising, how does this effect the running of Newday?
I think in some ways it has actually galvanised Newday as an organisation.
Sam Cox
playing keyboards at Newday 2012
Reshuffling and re-ordering the running of the event has really given it a fresh sense of its own identity. Newday as a 'brand', for want of a better word, is going from strength to strength, with the festival becoming one spoke in a bigger wheel.
It really feels like looking forward, Newday is becoming something that actually serves and permeates the big global picture, with its impact stretching to the USA and other major spheres within Newfrontiers.
Ultimately too, it's transitioning into something that serves the Church in broad terms, not just churches within the Newfrontiers family.
Why have you self published, rather than sticking with Kingsway?
With major restructuring happening not just with Newfrontiers but with Kingsway and with the music industry in general, the time came for us to decide whether we wanted to try and make this happen ourselves.
I went to Simon with a bit of a blueprint and after getting a few key people on board we quickly realised it would be viable.
Nathan Fellingham's experience with Phatfish led me to approach him and his brother Luke to help us make it happen. Luke's an amazing engineer and he recorded and engineered the whole thing, while Nathan was instrumental in getting the songs published and distributed under a brand new label called Freedom Sounds.
What's the reason you release an album after the event? Is it for people to have something to remind them of their week, or are you wanting Newday to become a UK version of Passion - where the songs spread through the Church and the world?
It's definitely both. The memento aspect is a big deal, and there's something amazing about hearing an album when you were present at the recording. I think bigger than that though is the desire to resource the church worldwide with songs to sing on Sundays, at house groups and wherever.
There is a lot of worship music being presented to a growing market and lots of it is outstanding. You could argue though that with such a high volume of material available, there is something of a scripture and substance famine in a lot of contemporary worship music.
So for us it's all about presenting songs that are contemporary and creative but at their essence carry simple Biblical truth, substance and doctrine.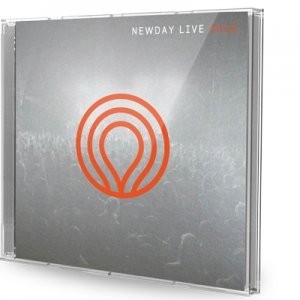 I hear you worked really hard on arrangements this year. With a new producer, record company and mixer Shane Wilson (Switchfoot) - do you feel everything has been stepped up a level?
Yeah I guess I do. When you are the ones responsible for a project, financially, creatively etc, it really encourages everyone involved to work hard!
The band this year were amazing and working closely with Luke in the studio was great as we had the time and freedom to take it where we wanted it to go sonically. It's a journey, and there's always things you wish you could have done better, but there's always 2013!
Which new songs are you excited about people hearing?
I've loved All I Want since I first heard it. It's one of those songs that carries so much while being deviously and so effectively, simple. I think its one that will serve lots of churches for a long time.
Musically I think Sun of Righteousness has a really 2012 vibe about it that just works well for the song, and I'm pleased that we were able to use the 'Fall on your knees' refrain. It was a really powerful moment on the second evening but often these special bits don't translate well or sound anywhere near as good when you get back in the studio. Thankfully what we recorded worked really well, so it stayed!
*Newday Live 2012 is no longer available.

SAM HAILES
Writer, Christian.co.uk
Sam writes news, features and reviews exclusively for Christian.co.uk. The job involves meeting influential and interesting Christians from across the country and beyond. Most importantly, he never talks about himself in the third person.
This article was written and published by
Sam Hailes
for Christian.co.uk
Leave A Comment or join the discussion
What's Hot This Week?
Our What's Hot feed is updated hourly.
Find us on Facebook
Social Recommendations
SUBSCRIBE FOR UPDATES
Subscribe via e-mail to receive the latest updates on Christian.co.uk!