The Cross Above It All: Worship Central Live
Updated 15:38PM, Monday October 29th, 2012 by Aaron Lewendon, Christian.co.uk
1 comment
Last Friday and Saturday saw Christians travel from all over the UK to be a part of Worship Central's latest live recording.
The Cross Stands Above It All
Held inside HTB Onslow Square during two winter evenings, the event included worship led by Tim Hughes, Al Gordon, Ben Cantelon, Nikki Fletcher and Luke Hellebronth.
Arriving at the church, everything felt quite different from the team's last recording 18 months ago. For a start, I was arriving at Worship Central's home church, not the HMV Forum.
It was this fact that was the topic of conversation just moments after arriving at the pre-party. Everyone from producers to HTB staff (not to mention the worship leaders) were commenting on how there was a feeling of "coming home".
"We're trying to capture the worship that's coming out of the church at HTB," Tim Hughes had told me just days previously in an interview.
With their last album Spirit Break Out achieving the highest-ever UK iTunes chart placing for a worship album – I was expecting the team to be feeling the pressure. But the atmosphere was jovial and full of excitement as the team made final preparations.
As the evening officially began Al Gordon even decided to lead the congregation in the Gangnam style dance. "Can you believe the Church of England ordained him?" Tim Hughes joked. "Desperate times!"
Tim Hughes
Was the evening about making a CD, resourcing the church, having a good time or worshipping God? The only reasonable answer to that question is 'all of that and more'.
Nobody could deny the passion in the room as Ben Cantelon kicked the evening off with Guardian. With Ben yet to release a live version of his song, its bound to end up on the CD. (For full predictions of what listeners can expect see the list below)
Next up was a new song with the chorus "God most high here be glorified in our lives you are our light hope of the world".
There was a quick rendition of Happy Day before the band launched into perhaps the most memorable song of the evening.
Let It Be Known has all the ingredients that make up a great worship song. The up tempo dance beat provides a perfect backing for a short rap from Myles Dhillon and a bold chorus from Tim Hughes of "Let it be known that our God saves, our God reigns we lift you up up up".
Next up was a beautiful reflective new song from Nikki Fletcher titled Dry Bones. Borrowing imagery from Ezekiel the song declares "these dry bones will live again, we're nothing without you".
Introducing a spontaneous time of worship, Tim Hughes said "sometimes worship is just from a position of faith, we may not feel anything but let's just begin to sing out".
Nikki Fletcher
As the crowd sung out in praise, any concerns about live recording faded away. "Oh God arise and shine, we will worship you" the band sang as people across the room responded.
Another new song The Cross Stands Above It All followed before one of the loudest moments of the evening where people sang, shouted and perhaps even screamed Ben Cantelon's "Be high and lifted up".
Al Gordon
Next, Tim introduced his brother Pete - who leads a church in Kings Cross - to address the congregation. Beginning by relaying a hilarious anecdote about how he's often mistaken for his brother, Pete held everyone's attention magnificently.
Apparently at some events, young people come bounding up to Pete to thank him for leading worship and tell him "I love your songs". Such is their enthusiasm that Pete said "it would be wrong to interject and say I'm Tim's younger, better-looking brother…I've signed CDs. There's still a level of shame that hangs over me".
Onto his topic and Pete picked up on some of the themes in Timothy Keller's book The Prodigal God. Helping people to understand the Jewish context of the parable of the Lost Son, Pete's message was well received.
In Everything I Will Give You Praise by christiancouk
As a short time of ministry ended, Nikki Fletcher sang Draw Me Close off her recent EP - All Glory. The song built into a powerful rendition of the bridge "you are with me always, even now you are here".
Yet another great drum loop kicked in for Al Gordon's In Everything I Will Give You Praise (audio clip above). It was becoming obvious that the strength of Worship Central's new songs were equal to those on Spirit Break Out.
Ben Cantelon
Luke Hellebronth's Ready For You is no exception to that rule. The catchy tune was picked up by everyone immediately. The same could be said of Tim Hughes's Kingdom Come, which has already been used at Alpha and 24-7 prayer's London based meetings.
The final new song was Ben Cantelon's The Same Power. With many of the songs being outward looking and focused on themes of justice and evangelism it seems that while Spirit Break Out was a cry for God to move, this new album will explain how Christians can play their part in seeing that happen.
As the night finished, the team were buzzing. Before heading on to the afterparty Al Gordon grabbed me to talk about the future. There were no tips on a possible album title (twitter users seem to favour Let It Be Known) but he did reveal the album will be released to coincide with Worship Central's UK tour in March 2013.
The tour will also see a vision to link worship with evangelism become a reality with new project Alpha Labs. Those eager to find out more will have to wait for the tour in March. But if the finished album sounds half as good as the live recording, then hearing these new songs will definitely be worth the wait.
Track list prediction:
Guardian
Our God
Let It Be Known
Kingdom's Coming
Draw Near
Ready For You
God Most High
In Everything I Will Give You Praise
Dry Bones
We Will Worship You (spontaneous song)
The Same Power
The Cross Stands Above It All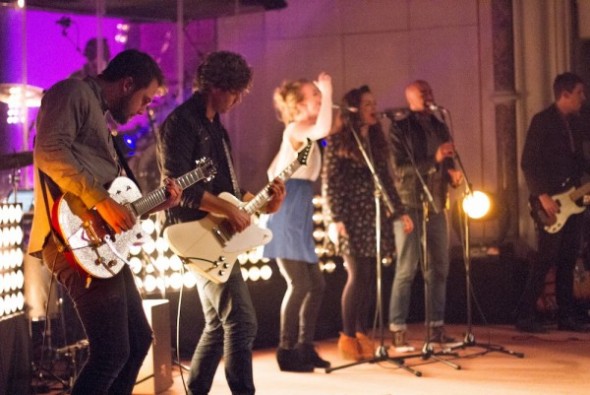 All photos (c) Josh Hailes

A READER
This article was written and published by
Aaron Lewendon
for Christian.co.uk
Leave A Comment or join the discussion
Lynda Watson
said...
EXCITING AND FRESH IN THE HOLY SPIRIT
What's Hot This Week?
Our What's Hot feed is updated hourly.
Find us on Facebook
Social Recommendations
SUBSCRIBE FOR UPDATES
Subscribe via e-mail to receive the latest updates on Christian.co.uk!