Steven Furtick: Dream Big & Pursue Greatness
Updated 9:16AM, Monday November 5th, 2012 by Sam Hailes, Christian.co.uk
Be the first to comment!
"Very truly I tell you, whoever believes in me will do the works I have been doing, and they will do even greater things than these, because I am going to the Father."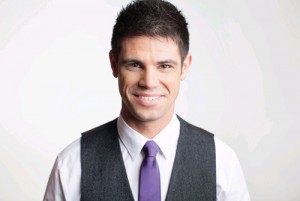 Jesus words in John 14:12 form the inspiration for Steven Furtick's new book, simply titled Greater. The book quickly climbed the charts to become a New York Times bestseller on its first week of release in the US.
No Expert
Steven's Charlotte based church started with seven families seven years ago. This week 12,000 people will attend Elevation Church across seven different locations. In Jewish thought, seven is the number of completion. Steven's life certainly appears complete, but he's not claiming to be an expert on greatness.
"In the book one of my goals was to say although I'm a pastor and by some measures have had great results in ministry…I still have moments every day where I feel disappointed with myself that I'm not the Christian I'm trying to teach others to be.
"What I say I believe is so far removed from my daily life. I'm up preaching a sermon about trusting God more yet I get a bill from the doctor I wasn't planning for. I get sucked into lesser - the opposite of greater, just the same as everyone. Part of my desire in the book is to say I'm not coming to you as an expert with lots of secrets you need to break free from complacency and mediocrity but I want to talk about the tension that I know is inside of us."
No Quick Fixes
As well as being honest with his reader, Steven wants to avoid talking about quick fixes.
"We all fall into the idea of 'if I do this, God will do that' or shortcuts and secrets and tips and tricks. Some of that stuff can be helpful from time to time, but this book is not that book.
"This book says to really step into the life God is calling you to the first thing you've got to do is set fire to the old life that represents your ways of thinking without Christ."
Once this first step has been accomplished, Steven gets practical.
"The book doesn't stay in a spiritual 'surrender your life to God' moment. It's not an emotional pitch the whole time. OK I want to surrender my life to God and believe he has greater things for me. That's where the process of preparation comes in. I try to challenge readers to think through what are the small steps of preparation for the greater dream. Everything from parenting to ministry to a business to forgiveness and relationships. We touch on all of these issues.
"The goal in all of these things is not that we would understand God completely, but that we would obey him fully. That's what the greater life is for me. It's a process and it's open ended. That's why the book is called Greater. There's always an 'er'…. You can speak one word today in a relationship and make one move for God and he can multiply that small act of faith and making something greater out of it."
He's not calling us to settle into mediocrity, complacency and good enough but the goal is greater. Biblically based
The book was born out of a sermon series Steven preached on Elisha.
"I wanted to write about a character that went from being an ordinary plowman to being this prophet who raised the dead and changed economies and stood before kings and prophesied the rain would fall. The more I read about his life the more I wanted to share. There are so many moments in Elisha's life that are such great metaphors for our own lives.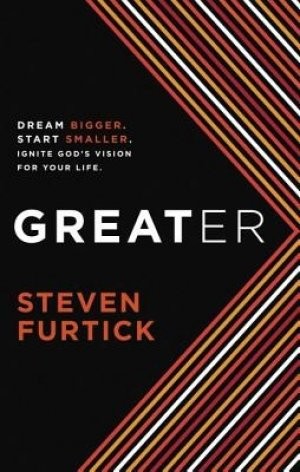 "The title Greater sounds vague but it has a very specific meaning to me. I'm the kind of guy who has always wanted to be the greatest at what I do. I'm realising more and more, especially as God grew our ministry and gave us significant impact, that the goal isn't greatness. He alone is great and I'm never going to be great in my own merit. At the same time he's not calling us to settle into mediocrity, complacency and good enough but the goal is greater.
"Elisha's life represents that really well. I take the reader into an experience and say 'what greater thing is God calling you to or what are you doing right now that he's calling you to do in a greater way?' and [teach them] how to start with small steps."
The Bombshell
When Jesus told his disciples that they would do "greater works" what specifically was he referring to? Did he mean more miracles, a greater number of miracles or something else? Steven doesn't answer directly.
"John 14:12 is meant to be a bombshell that explodes our logic. Anytime we try to relegate it down to 'it means these three things' we've missed the point of the shock factor that I think Jesus intended. His disciples in the moment he spoke it were bemused and bewildered.
"Theologians have written much better books on than I could. I'm a 32 year old pastor, I take God's word seriously, I study God's Word but I've never put myself forward as a premier theologian. What I do find in that verse no matter how you slice it is a challenge and a promise. No matter how we interpret whether he meant more miracles in number or something completely different, what he's saying is different to what I'm seeing in my life today.
We can all acknowledge the life God had in mind for us is greater.
"I don't care how you bring it down, the challenge of Jesus saying that, we can all acknowledge the life God had in mind for us is greater. In the book I try to stay out of some of the territory that others made traffic in with more ability than me yet at the same time take seriously this claim Jesus made and not write it off 'what Jesus really meant was…' and use it as a cop-out clause.
"The best thing I can do is throw myself into that promise and ask God to do greater things in me and open my imagination to the possibility that if Christ is in me then his calling is greater. That's the beginning point. I just want to take God at his word and take Jesus seriously and allow him to apply that truth to my life."

SAM HAILES
Writer, Christian.co.uk
Sam writes news, features and reviews exclusively for Christian.co.uk. The job involves meeting influential and interesting Christians from across the country and beyond. Most importantly, he never talks about himself in the third person.
This article was written and published by
Sam Hailes
for Christian.co.uk
Leave A Comment or join the discussion
What's Hot This Week?
Our What's Hot feed is updated hourly.
Find us on Facebook
Social Recommendations
SUBSCRIBE FOR UPDATES
Subscribe via e-mail to receive the latest updates on Christian.co.uk!