Do You Hear What I Hear? - Various Artists
Updated 9:49AM, Monday December 3rd, 2012 by Sam Hailes, Christian.co.uk
Be the first to comment!
Songs of Christmas is the compilation of choice for this year's festive season.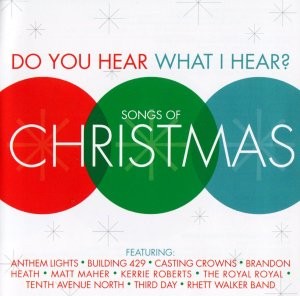 The 10 track album titled Do You Hear What I Hear? features top Christian artists including Casting Crowns, Third Day and newcomers Rhett Walker Band.
The arrangements are fresh while retaining the timeless quality of the of classic hymns and songs.
Matt Maher's version of Hark! The Herald Angels Sing is a perfect example. The young worship leader sensitively delivers the hymn while adding a little Christmas sparkle.
Kerrie Roberts delivers a stunning and rightly powerful rendition of O Holy Night while Anthem Lights put their pop fuelled sound to title track Do You Hear What I Hear?
Tenth Avenue North have managed to make an already cheesy song even more cheesy in Deck The Halls. They've also cheekily added in a reference to Christ, despite the song originally having nothing to do with him! The falsetto vocals towards the end make the whole production feel rather overblown, but it's clear the band are enjoying themselves.
Casting Crowns bring proceedings back to normality with O Come All Ye Faithful. Taken from their 2010 album Peace On Earth it's nothing new for long-time fans of the band.
If you already have plenty of music by these artists, there's little point picking up Did You Hear What I Hear? Having said this, the recording does live up to its claim of "the perfect playlist for Christmas".
Building 429 produce the heaviest song on the album in What Child Is This? Their powerful rendition is heartfelt and hardhitting. Rhett Walker Band's offering to the compilation is a welcome and unique one. You won't hear their version of O Come, O Come Emmanuel elsewhere. It isn't the easiest song to put a fresh spin on, but thanks to Rhett's unmistakably unique voice, the arrangement is interesting from the outset.
The Royal Royal will be a band title unfamiliar to most and purely from a musical point of view, their contribution to the CD – which is also the final track - feels strange and disjointed. On a CD that promotes fairly standard arrangements of classic Christmas songs, Rescue (O Holy Night) sticks out.
Ending with the words "Jesus is here", the recording sets the tone for the true meaning of Christmas.
All in all it's a pleasant compilation – and certainly the best Christian one to be released this month. Guaranteed to help even the biggest scrooge into the Christmas spirit, Do You Hear What I Hear? is a triumph.
Rating: 8 out of 10

SAM HAILES
Writer, Christian.co.uk
Sam writes news, features and reviews exclusively for Christian.co.uk. The job involves meeting influential and interesting Christians from across the country and beyond. Most importantly, he never talks about himself in the third person.
This article was written and published by
Sam Hailes
for Christian.co.uk
Leave A Comment or join the discussion
What's Hot This Week?
Our What's Hot feed is updated hourly.
Find us on Facebook
Social Recommendations
SUBSCRIBE FOR UPDATES
Subscribe via e-mail to receive the latest updates on Christian.co.uk!