Focus - Holly Starr
Updated 9:30AM, Friday November 9th, 2012 by Sam Hailes, Christian.co.uk
Be the first to comment!
Holly Starr is said to be a quiet country girl uninterested in fame or fortune.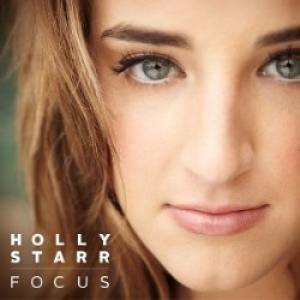 The singer/songwriter has just released her third album Focus. It's an apt title as the 21 year old has struggled to balance the varying demands on her time.
As her influence has steadily grown in the US, so have the touring opportunities – meaning less time at home.
"I want to be around," Starr says, "to be able to disciple kids that I really love in my life. But because of this calling, I'm not constant in people's lives. Learning to balance all that has been a challenge for me, but it's been a huge blessing to see how, when God calls us to something, He provides, and He gives time."
It's this positive attitude that comes across in bucketloads in all of Holly's music. Focus will delight fans of worship fuelled pop music.
Opening tune Let Go immediately grabs the listener's attention. Superb production combined with an interesting arrangement means Holly's voice shines through from the outset.
The chorus is simple and the harmonies pleasing. The radio friendly tune clocks in at (like most of the songs) a little over 3 minutes. This Love is one of many songs that sounds identical to many of Kari Jobe's tunes.
Don't Have Love continues the happy-go-lucky sound. Moving from darker verses into upbeat and joyful choruses Holly sings about life not being enough "if you don't have love".
The title track sees Holly preach to herself about ending her own confusion by focusing on God. It's not the strongest song on the album from a musical point of view, but lyrically it ticks all the boxes in pulling the theme of the album together.
While Focus looks at what happens when Holly's eyes are taken off God, Satisfied is a more worshipful track which praises God for bringing her "heart to life".
Holly's final track is absolutely superb. A great piano and bass drum pattern accompany the first verse as Holly's voice soars. The melody is almost hymn-like in its grandness. The song slowly builds as Holly sings about the cross "where Jesus bled and died" and how through death "he brought me life".
The chorus is majestic yet subtle. Like much of the album, it's simple and repetitive but also full of meaning and weight. Grace For All is over too quickly as the album finishes after just 33 minutes.
Like many albums from female worship leaders and artists, Focus is more likely to appeal to women than men. But all in all it's a delightful album from a very talented singer. If you're a fan of well thought out pop music that points to God then look no further than this. And if you're a Kari Jobe fan, then you won't just like this, you'll love it!
Rating: 8 out of 10

SAM HAILES
Writer, Christian.co.uk
Sam writes news, features and reviews exclusively for Christian.co.uk. The job involves meeting influential and interesting Christians from across the country and beyond. Most importantly, he never talks about himself in the third person.
This article was written and published by
Sam Hailes
for Christian.co.uk
Leave A Comment or join the discussion
What's Hot This Week?
Our What's Hot feed is updated hourly.
Find us on Facebook
Social Recommendations
SUBSCRIBE FOR UPDATES
Subscribe via e-mail to receive the latest updates on Christian.co.uk!