Miracle - Third Day
Updated 9:20AM, Wednesday November 28th, 2012 by Sam Hailes, Christian.co.uk
Be the first to comment!
Third Day's last album Move was a triumph! From the stonking opener Lift Up Your Face to the final rock ballad Don't Give Up Hope, the record was drenched in energy and the bold Southern Rock attitude that lead singer Mac Powell encapsulates so well.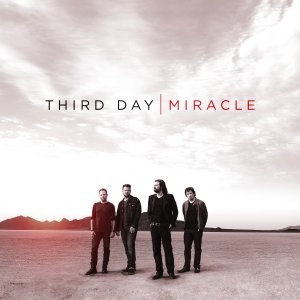 Two years later, the band are back with a very different record. Miracle is less brash and more considered than its predecessor. The lyrics are still bold, with the first song referencing bombs and the second one titled "Kicking and Screaming".
Mac singing about how people would have to drag him away kicking and screaming to keep him from staying close to God is a nice sentiment. The music is pleasant too, but it doesn't fit the imagery. Mild, acoustic guitar driven pop music isn't what you'd expect from such a bold song title.
Choosing to work with a mainstream producer in Brendan O'Brien (The Killers, The Fray, Incubus) the band's sound has definitely evolved. But rather than positively pushing boundaries, the band's music appears to have suffered as the band lose their confidence in their well established sound.
Title track I Need A Miracle feels a little cliché, but the music has a sharp edge, and Mac, as usual, tells the story of the song with great conviction.
More positive elements of the recording include a cover of a rarely sung hymn Morning Has Broken and the brilliantly cheesy, happy and up-beat "I Want To Believe In You". The bridge and ending of the latter song is particularly beautiful.
The Victory sees the band retain some of their heritage and old school sound. It feels vintage Third Day, rather than the overly modernized sound captured elsewhere on the album.
"I'll never give up or compromise, I do believe I'm walking away with the victory" Mac sings defiantly over a rootsy backing with powerful drums and great electric guitar tones. This one is best played loud.
A sudden and short-lived tempo change halfway through the song is unusual for the band, but it works well and demonstrates they aren't afraid to try new things, even if such ventures don't always have the desired impact on fans.
Miracle is sadly not Third Day at their best. The biggest Third Day fans will love whatever the band release and will disagree with this review. But the album's failure in exciting reviewers to provide outstanding reviews is obvious from a brief Google search.
Third Day still have the potential to keep their reputation as one of Christian music's best bands. Their contribution to the industry is unparalleled and should always be respected. Looking back over the past 20 years Third Day have provided fans with some outstanding tunes.
So before rushing out to buy Miracle, why not invest in the band's phenomenal back-catalogue. Miracle won't be worth the purchase until you've inserted Move and Chronology in your CD collection.
Rating: 6 out of 10

SAM HAILES
Writer, Christian.co.uk
Sam writes news, features and reviews exclusively for Christian.co.uk. The job involves meeting influential and interesting Christians from across the country and beyond. Most importantly, he never talks about himself in the third person.
This article was written and published by
Sam Hailes
for Christian.co.uk
Leave A Comment or join the discussion
What's Hot This Week?
Our What's Hot feed is updated hourly.
Find us on Facebook
Social Recommendations
SUBSCRIBE FOR UPDATES
Subscribe via e-mail to receive the latest updates on Christian.co.uk!