Faith Under Fire: Vicar of Baghdad
Updated 9:11AM, Wednesday June 20th, 2012 by Sam Hailes, Christian.co.uk
2 comments
As the vicar of the only Anglican church in Baghdad, Iraq Canon Andrew White lives under constant threat. In this exclusive interview, we talk to the Canon about baptising people in Saddam Hussein's old palace, religious persecution, and Andrew's multiple sclerosis.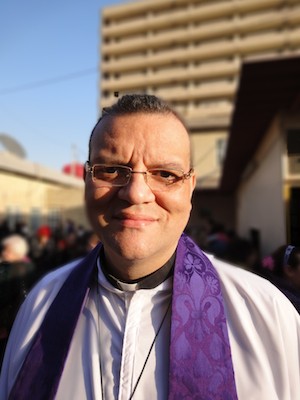 I met the Vicar of Baghdad at the Ultimate Christian Library Book Award Ceremony just after his book Faith Under Fire won the award for best adult book.
In a rush to catch a plane back to Iraq via Israel, Andrew didn't have long. His booming voice was authoritative but his words were full of humility and humour.
I started by suggesting he was best known for being a peacemaker. "Is that how you'd like to be known?" I ask.
"I've honestly never thought about how I'd like to be known. I'm usually just known as the person with bowties and fancy pens," he says, holding a serious expression while a small group of onlookers laugh. "I try to be a peacemaker. I don't always succeed, but you try," he says with a shrug of his shoulders.
While he chooses not to go into detail, Canon White's achievements are impressive. Not only did he negotiate the end of 2002's Bethlehem siege, but the peace talks he conducted in Iraq led to the first joint Sunni/Shia fatwa against violence.
What's life like in Baghdad? "Every day is different. I'm very deaf so I can't hear the bombs in the morning. They don't wake me up which is good."
"Bombs, rockets, people attack us regularly. But I have huge security provided by the Iraqi government and the church is very very secure. I divide my life between work in the embassies, the work in the church and all the inter religious engagement which I head up."
Life in Baghdad has changed during the eight years that Canon White has lived there. "In the days of the Coalition Provisional Authority, the American embassy was actually in Saddam's palace and we used to baptize people in the swimming pool," he reveals.
But away from amusing stories of Christians worshipping in Saddam's old palace, Canon White's tone changes as we turn to the subject of persecution.
"In the last couple of years I've had 273 of my people killed…They have been kidnapped, tortured, killed, massacred. Terrible things."
With his wife and children living back in the UK, it's difficult to understand how Canon White copes with the suffering.
"Sometimes it's very difficult, very painful and you can't pretend it's always easy. The key thing is love keeps us going. We're a very happy community even though terrible things have happened"
"When I'm in England I miss my family in Iraq. When I'm in Iraq I miss my family here. I've got some adopted children, so they keep me going."
His church has over 4000 members, and Canon White says there are lots of Muslims who are interested in his work. The church is surrounded by soldiers and guarding towers. "You can't really say no guns in church, it doesn't really work like that," he grins.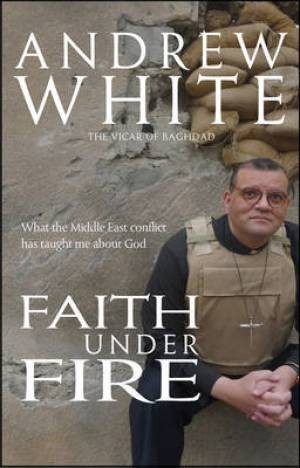 As well as witnessing immense suffering in one of the world's most violent cities, Canon White has had his own suffering to deal with. His multiple sclerosis is terminal. But although he's had to deal with the disease for 17 years, the vicar remains upbeat.
"I'm very blessed because the most advance treatment is stem cell therapy and I get that in Baghdad."
"When my friend said 'you need treatment you're getting worse', I said 'I know that but what?' He said 'stem cell therapy'. I said 'I have ethical problems with that.'"
"He said 'I'll take all the blood from your own body'. I said 'have you done this before?' He said 'no'. So I was number one and we now have over 3700 patients and we've moved the stem cell treatment centre into our clinic at the church."
I'd previously read that Canon White had also received a measure of healing at Brian Johnson's Bethel Church in Redding, California. Was it true?
"They say that because it looks good for their website. I have my healing every day from God. I manage," he says before carefully adding: "Redding was good".
But his apparent skepticism towards claims from the United States megachurch doesn't mean the Canon is skeptical of supernatural healing. Far from it.
"We see signs and wonders every day. We saw them at the Pentegon as well." "The Pentegon?" I ask. Eager for him to elaborate I ask what happened.
"Loads of things," he says in his unique matter of fact manner.
"I was working with the Pentegon for years when America had a decent president, unlike now. Gold, manner, healings all these miraculous things."
I remain unsatisfied at the lack of detail and press the churchman. "What have you seen in Iraq?"
"Look in the book. There you'll see a picture of the white cloud of glory around funeral cars, pictures of when we see angels. It's all there," he says before turning to a friend and remarking, "I don't think he's read the book!"

SAM HAILES
Writer, Christian.co.uk
Sam writes news, features and reviews exclusively for Christian.co.uk. The job involves meeting influential and interesting Christians from across the country and beyond. Most importantly, he never talks about himself in the third person.
This article was written and published by
Sam Hailes
for Christian.co.uk
Leave A Comment or join the discussion
Jenny Smith
said...
I would highly recommend both Cannon White's books:' The Vicar of Baghdad' and 'Faith under Fire'
Elizabeth Sadler
said...
Wonderful testimony .Praise God!
What's Hot This Week?
Our What's Hot feed is updated hourly.
Find us on Facebook
Social Recommendations
SUBSCRIBE FOR UPDATES
Subscribe via e-mail to receive the latest updates on Christian.co.uk!