God of the second chance: Paralympic Star's dream
Updated 10:00AM, Thursday September 20th, 2012 by Hefin Rhys Jones, Christian.co.uk
1 comment
The 2012 London Paralympic Games astounded the world with 11 days of top quality sport as around 4,200 athletes from 160 countries competed in 21 sports, book-ended with spectacular opening and closing ceremonies which drew more than 11 million TV viewers in the UK.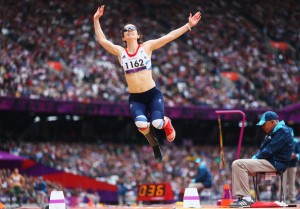 One of 300 home athletes, Stefanie 'Stef' Reid not only took a silver medal for long jump but also went out for gold and glory in the 100m and 200m track events.
The New Zealand born star, of Scottish and English parentage, moved to Canada when she was four. Competing for Canada in the 2008 Beijing games, she picked up a bronze in the 200m, before switching allegiance to Team GB in 2010.
From accident to achievement
Her journey to London 2012 is inspiring. Growing up as a sports mad youngster in Toronto she played all kinds of sports: basketball, cross country, swimming, rugby... and ballet. From the tender age of five it was always her dream to become a professional athlete.
Taking up rugby at the age of 12 - and excelling in the sport, she was well on the way to fulfilling her dream. But Stef's world was turned upside down when she suffered a serious boat accident.
Aged only 16, her life was saved only by the amputation of her foot and part of her right leg. As she lay in an ambulance, terrified of dying, she prayed to God for a second chance, knowing in her heart that her life hadn't pleased him and that her life had all been about her.
God gracefully answered her prayer. Even though she felt "devastated" and had "lost the will" to live on with the seeming 'end' of her dream, she decided to trust in God.
God revealed to me that he put my drive and love for competition in me for a reason
It was a confusing time for Stef, marked by a raft of questions. "Why would God bless me with a passion and ability for sport, only to take it away? How was I still going to be me? Would I still enjoy life?"
But God answered her prayers and showed her that she didn't need to give up her competitive edge.
"God revealed to me that he put my drive and love for competition in me for a reason." Said Stef, "I didn't need to change, I just needed to apply it in a different way".
A Change of heart
Stef threw herself into her studies; gaining a full scholarship to Queens University, where she gained a degree in Biochemistry and played on the university's chess and trivia teams.
It was during her time at Queens that she took up athletics joining the campus track and field team. The rest, as they say, is history.
Within three years she was competing at the 2008 BT Paralympics World Cup. As more and more invitations came in for her to compete internationally, the bright 26 year-old had to choose between athletics or medicine; a choice that wasn't difficult for her to make.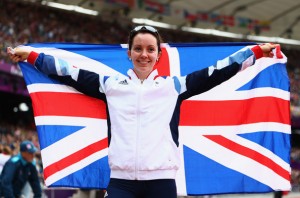 "I couldn't believe that God, after all that had happened, would have brought me this far in athletics just to walk away from it." Reflects Stef, "So I decided to take the road less travelled".
Stef Reid's decision has been vindicated by her achievements, including bronze medals at the 2010 Paralympics World Cup and London Grand Prix, Gold at the 2010 London Disability Athletics Challenge, a 2010 long jump world record and 2 further bronzes at the 2011 IPC World Championships - and now a 2012 silver medal in the long jump.
Reid's story is truly inspirational: "12 years ago, lying in my hospital bed and short of one foot, being a Professional runner was the last thing I expected of my life. But we serve a mighty God!"
Every One a Winner
Stef's story bears more than a passing resemblance to Christian athlete Eric Liddell's conviction that God had made him fast for a purpose – to glorify God.
Read the story of Eric Liddell and other Christian athletes and changed lives in 'Every One a Winner'; engaging, real and ultimately challenging life stories for anyone interested in sport and the people who play it.

HEFIN RHYS JONES
Leave A Comment or join the discussion
Jeremy Legg
said...
Awesome story! Praise God for how He reveals His purposes even in our times of disaster!
What's Hot This Week?
Our What's Hot feed is updated hourly.
Find us on Facebook
Social Recommendations
SUBSCRIBE FOR UPDATES
Subscribe via e-mail to receive the latest updates on Christian.co.uk!