Top Fighter Always Prays For Opponents
Updated 9:40AM, Tuesday October 2nd, 2012 by Hefin Rhys Jones, Christian.co.uk
Be the first to comment!
How does boxer Tyson Fury reconcile his faith with a sport which many Christians feel is incompatible with the teachings of Christ? "I pray for every opponent I fight," he explains.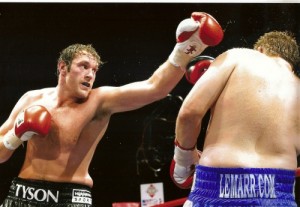 Named after ex-Heavyweight Champion of the World, 'Iron' Mike Tyson, current Irish and WBO Inter-continental Heavyweight Champion, Tyson Fury, has always been a fighter.
The 6 feet 9 inch former British and Commonwealth Champion, whose father was also a professional fighter, has already fought against the odds simply to survive.
"I was born 7 weeks prematurely," Tyson told New Life newspaper, "I died three times and came back to life in an incubator. So my Dad called me Tyson, and I was never going to be anything else."
Raw potential and right priorities
With his all-action style and unshakeable self-belief, the Manchester born 23 year-old of Irish stock hails from a traveler community.
A 'big hit' on Channel Five's boxing coverage, over two million viewers turned on to watch his latest fights. Unbeaten in 19 bouts, 14 won by KOs, pundits believe Fury has the raw potential to make a serious challenge to the towering Klitschko brothers, Wladimir and Vitali, who currently dominate the world heavyweight scene.
But becoming Heavyweight Champion of the World is not his ultimate aim. "Boxing is sport," explains Fury, "and you know going to heaven means more to me than beating Wladimir or Vitali on the same night with one hand."
Making good in the fight of faith
Tyson Fury came to faith five years ago after a conversation with his Uncle John, a Pastor, and testifies to how God filled an 'empty' space in his life.
"Before God was in my life there was an empty space that nothing could fill," Fury told the Belfast Telegraph, "I just felt depressed, horrible. Even when I don't feel great now, I'll get my Bible out and read it and everything comes right again."
But how does a boxer reconcile his faith with a sport which many Christians feel is incompatible with the teachings of Christ? "I pray for every opponent I fight; that it would be a good fight and that afterwards everyone would be safe and healthy," explains the fighter.
"Fighting has been going on for ages and ages. You can think back to David and Goliath when God gave David the power to defeat Goliath. It's just a job. I never think about damaging anyone."
Father of two, Fury also sees his boxing as a way to share his faith: "I believe God is helping me in my career to help spread the word of Jesus Christ. I have a special opportunity because God has given me the size, the height, the ability to go on and be the heavyweight champion of the world," he says.
"If you have faith in God you can achieve anything." It would be a brave man who'd bet against Tyson Fury lifting his arms as Britain's next World Heavyweight Champ.
Christian witness in the boxing ring
Christians and boxing fans will find much to think about inThe Fight - a gritty story of tragedy and restoration in the world of East London street fights and boxing gyms, by Luke Wordly. Although a novel, at its heart The Fight is about dedication, talent and finding the faith, strength and discipline to overcome the internal struggles that threaten to tear lives apart.



HEFIN RHYS JONES
Leave A Comment or join the discussion
What's Hot This Week?
Our What's Hot feed is updated hourly.
Find us on Facebook
Social Recommendations
SUBSCRIBE FOR UPDATES
Subscribe via e-mail to receive the latest updates on Christian.co.uk!